Today I am at the Festival of Education in the Viaduct Events Centre in Auckland. I came with
Ms Kyla, Mrs Kelly,
Mavis
,
Alison
,
Cypress
,
Darwin
, and
Jayden
. In the two cars were me, Cypress, Darwin, and Jayden were in Mrs Kelly's Car, and Alison and Mavis in Ms Kyla's Car. a long drive to the city, after a lunch at a pizza restaurant, Sal's Authentic New York Pizza. It was a big pizza with Coke Cola, and let me be honest, I took too much, so much, I had the longest "go" I ever had. I also watched a basketball game on a big screen there.
After lunch, we went inside the Viaduct Event Centre. I saw lots of different people from other schools, and also, the public. Up the second floor and here we are. The time we went was approximately 11:20AM - 11:30AM, and the time we came into the Manaiakalani Stall was approximately 1:20PM - 1:30PM. Talk about traffic!
UPDATE: FRIDAY, 21ST MARCH, 6:26PM
The events happened after the photo above was taken.
In the stall, I saw Ms Grant and Mrs Burt, and little did I know, I had grown.....A LOT!! Seems so interesting I grew so much after the last time I saw the two ladies. A video from our school was playing, and I was very impressed with it. The shots, the settings, the way they take a video of a site, when actually, you just face a camera to a screen, press record, and ta-da! You've taped a website on a computer. Another thing I saw were phones....
On this one, which I sort of got from a recent website taken by Ms Grant (apologies). This photo has a boy from Brooklyn, the boy with the red shirt and bag. His mother is on the left side. At that moment, Cypress was complimenting him, saying he's looks like a good person.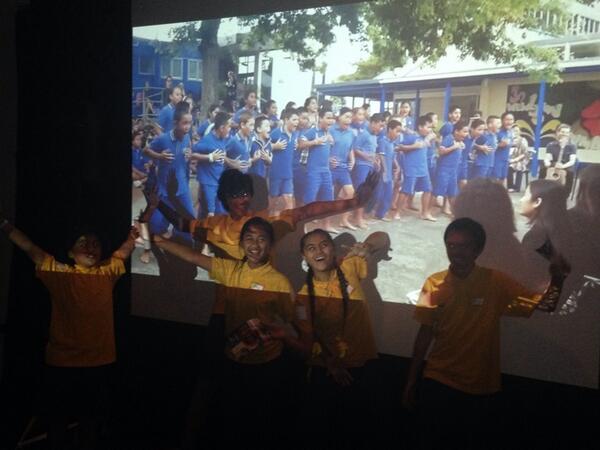 Now this photo.......wow, I never thought i'd actually find that one. Anyway, this photo was a group photo, well, there's five of us, but I can't see Darwin. Can you find him? Also, if you look closely, my eyes. People are right about my eyes.
After, we went outside, and saw a flash mob! The song that was playing was "Happy - Pharrell Williams". The group made a peace sign, some of the boys did break-dancing moves, which looked impossible, but, it's possible when you actually watch it. Sadly, we had to pack up, as it was nearly 4:00PM.
While walking to the cars, we went into a place that was in a shipping container! It had a model of Auckland CBD, tablets you use your fingers to touch the screen with, and many more. Also, did you know that the Emirates Team New Zealand Building is in Auckland? I didn't. I was on the other side of the road, and I could've looked to my left and said, "Whoa!", but instead, I looked at the right. Never noticed the big, huge building until my Dad asked me,
"So, did you see the Team New Zealand Boat Place?"
Once in a lifetime opportunity gone. Continuing on, we got in the cars. This time, Darwin, Alison, and Mavis in Ms Kyla's car, and me, Cypress, and Jayden in Mrs Kelly's car. It was fair enough, three in each car.
Traffic. Lot's and lots of traffic. At least we got to speak to each other while the cars were zooming. Finally, after all the cars and noise, we were all dropped off at our houses. That day was a great day.