Back to the time I was awkward at interviewing......I still am to this day....
Hi, reader, welcome back to another Throwback Thursday, where on different Thursdays (I won't guarantee that this post thing will happen every Thursday) I post a memory from Tamaki Primary, sometime between 2010-2015. I probably won't go through memories as far back as 2015, because I would need some sort of media to represent that memor-nevermind, I digging myself into a little hole, here.
I will start this memory off with a bit of a "preview" of sorts, including one of my good friends, Stanley. I'll give some context. I had just deleted all the footage I had taken on this special occasion, thanks to my (at the time) close friend Mary-Jane, and I needed to start over again. At that moment, Stanley had come by, and I asked for an interview.
Oh, I almost forgot, this was the first time in a while that I did interviewing on people. Anyways, Stanley made out a little plan, saying something like:
Okay so I'll just sit here normally, and you say, "Stanley..." and I'll go, "Oh, hey!", alright?"
. I reply with a "Yes" and I start rolling...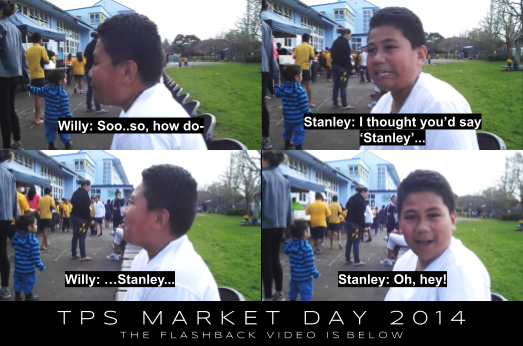 This was the first time, probably, that I had done some interviewing and documenting around an occasion. Other people include
Tanisslous
and
Quitah
. I interviewed a few people, using both an iPad and this camera that made me look like a photographer with its bag and lanyard. Well, Mrs Micic said that. This video was put together by Ms Aireen (I had actually found this on the Tamaki Primary Vimeo channel), and it shows events taken from the day...
To see my full description about Market Day, click
here
.